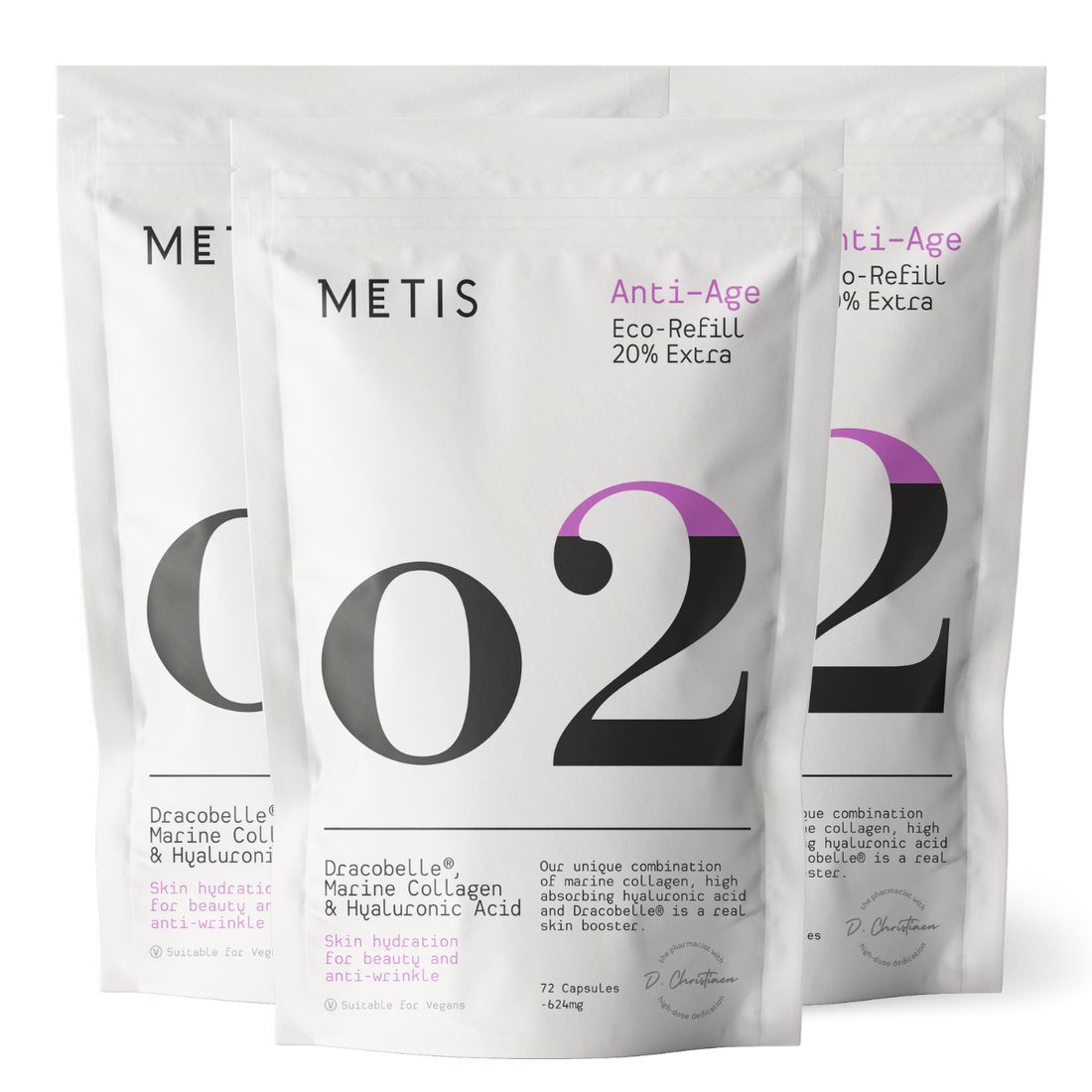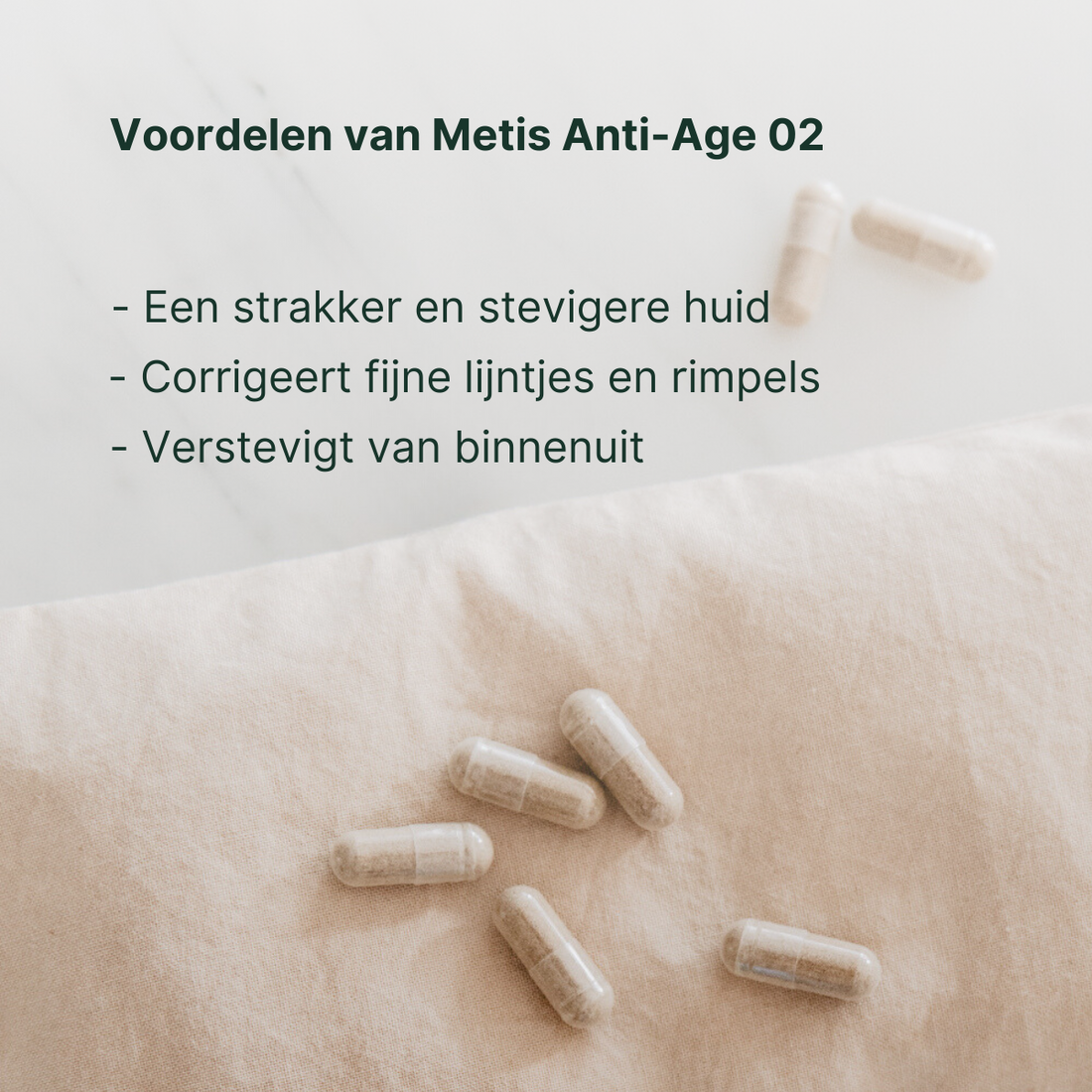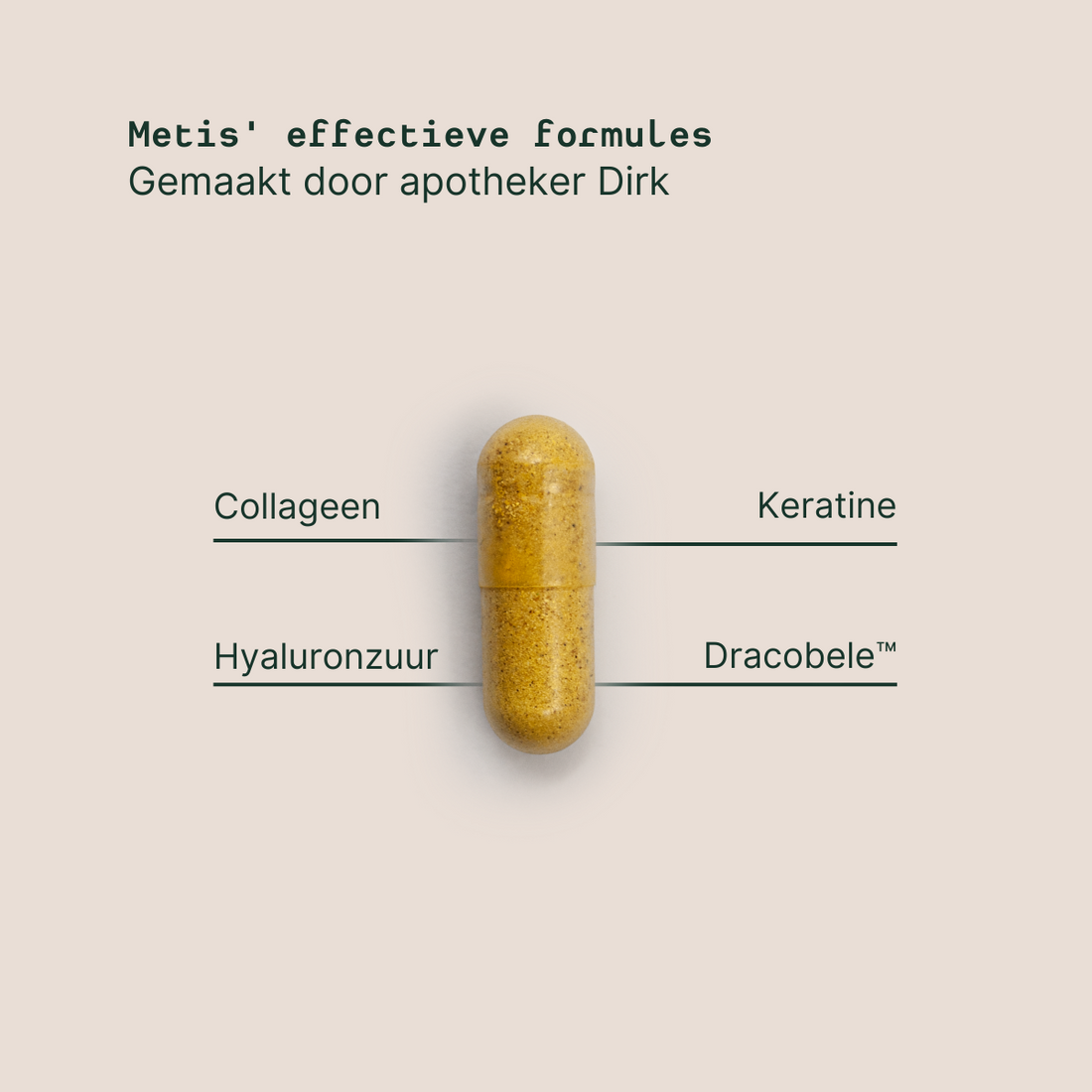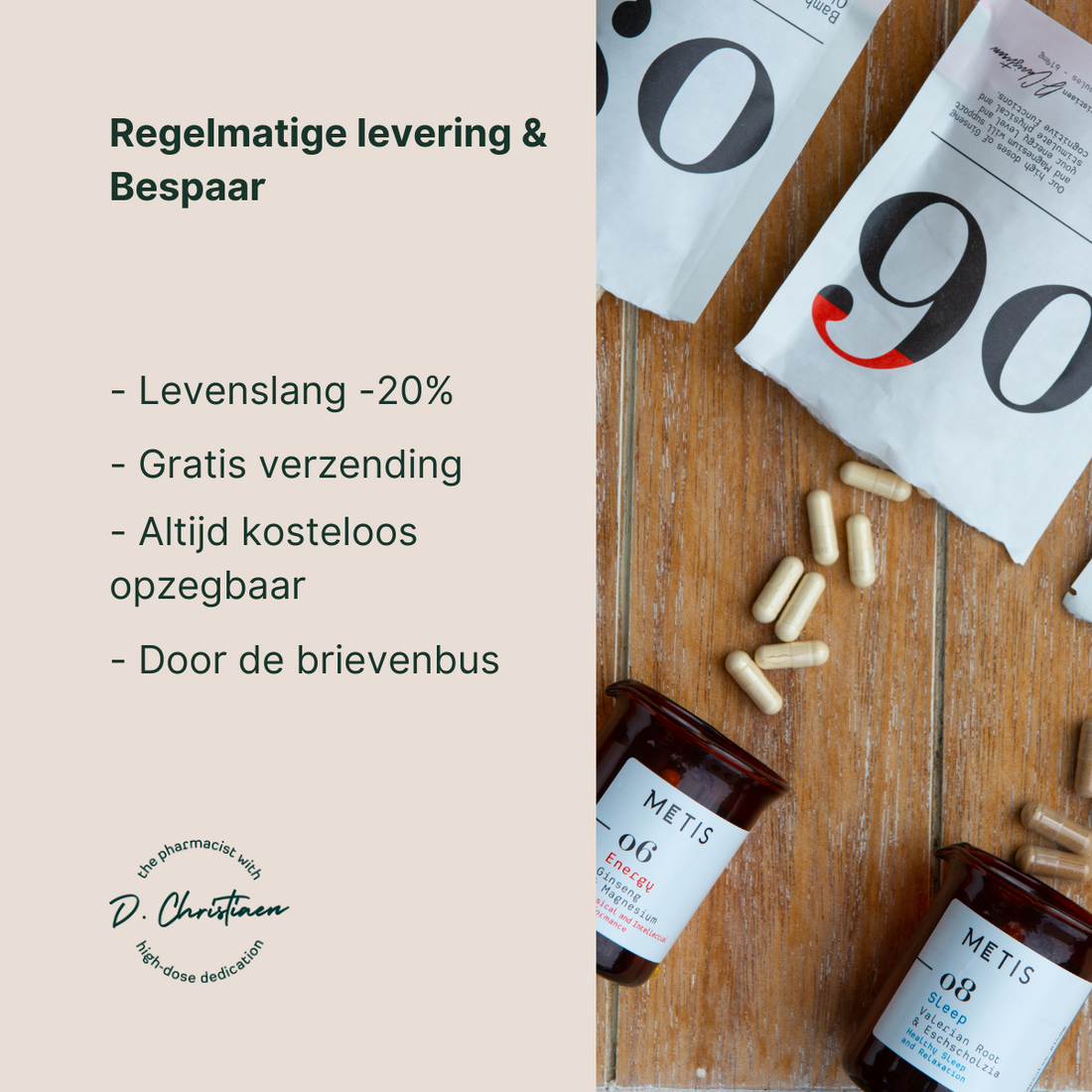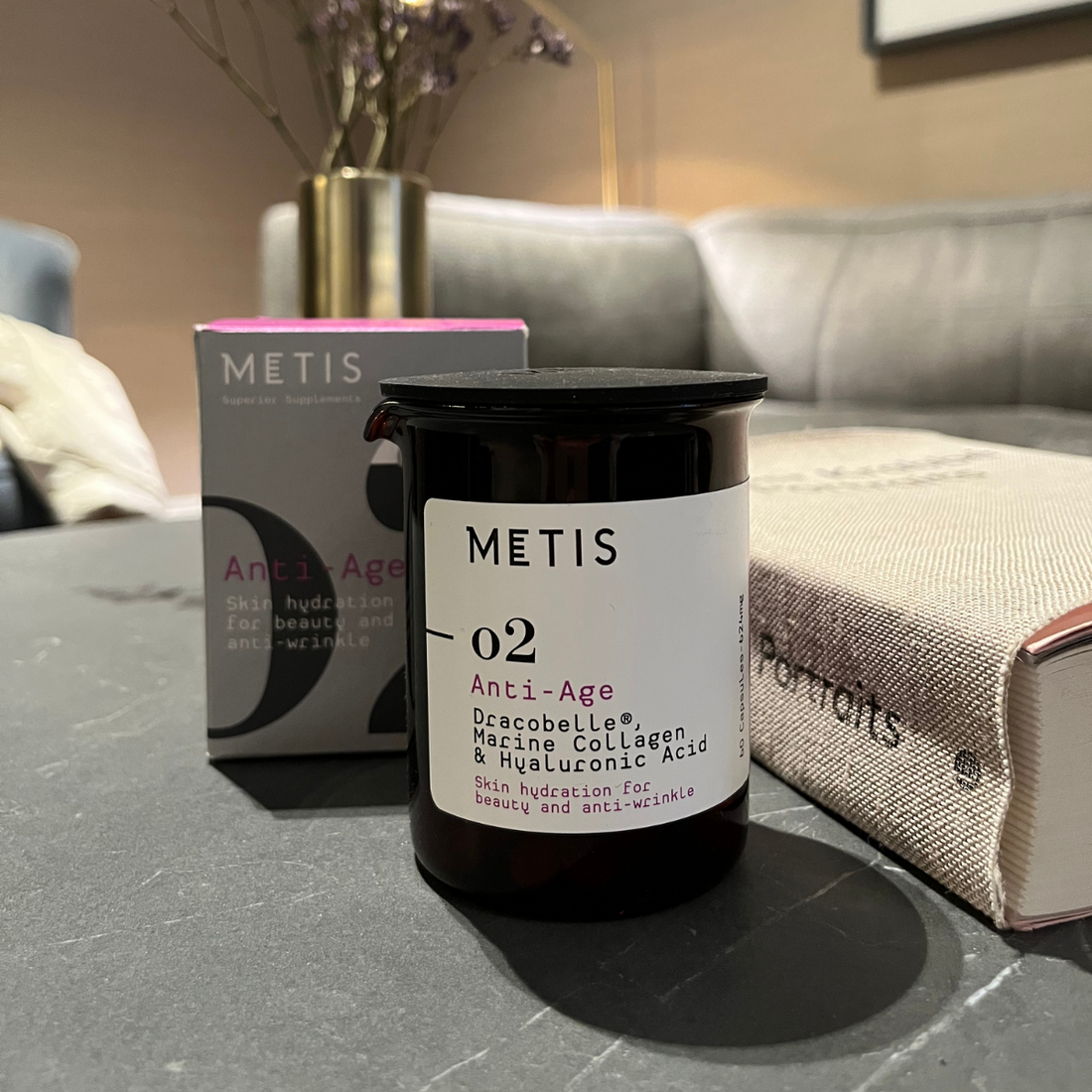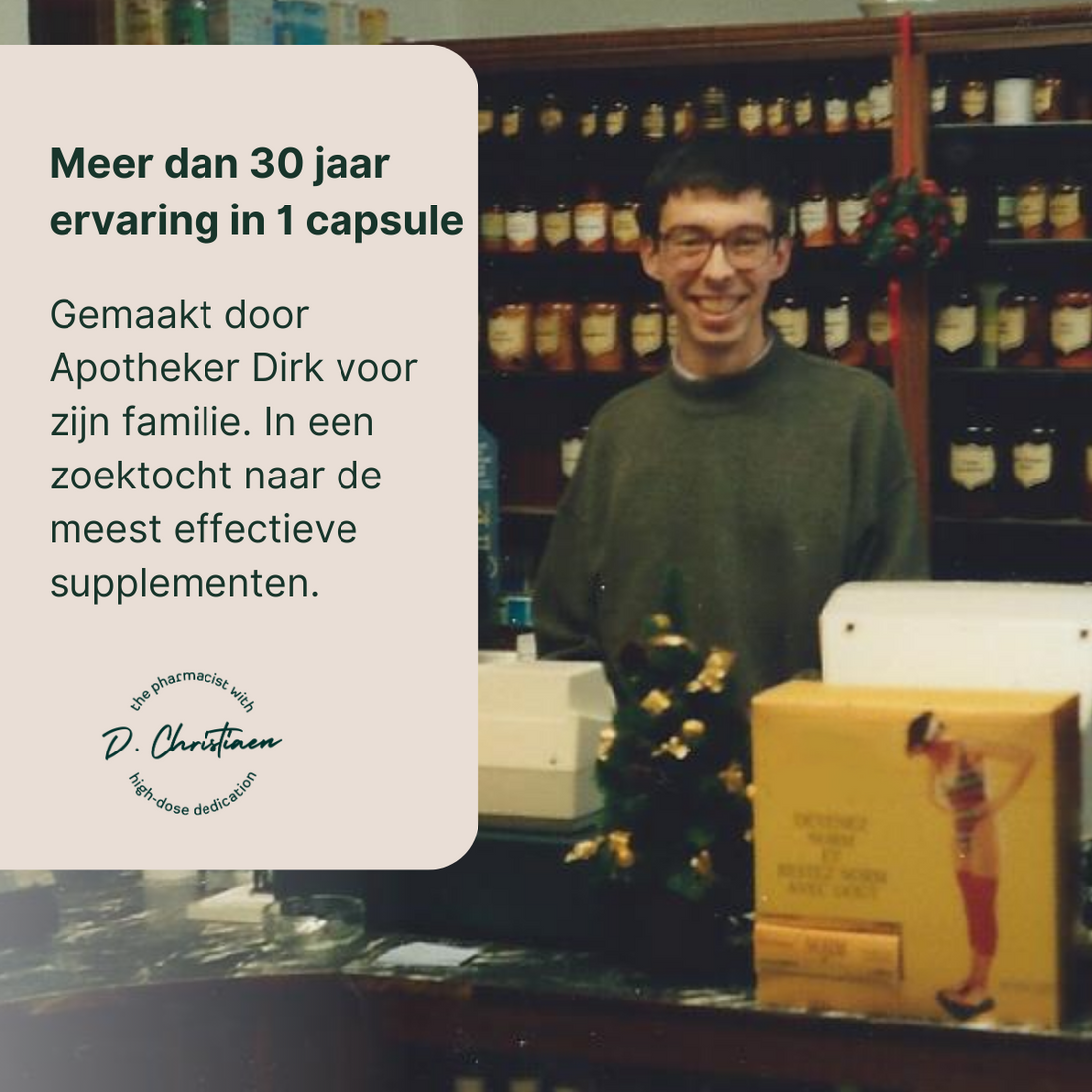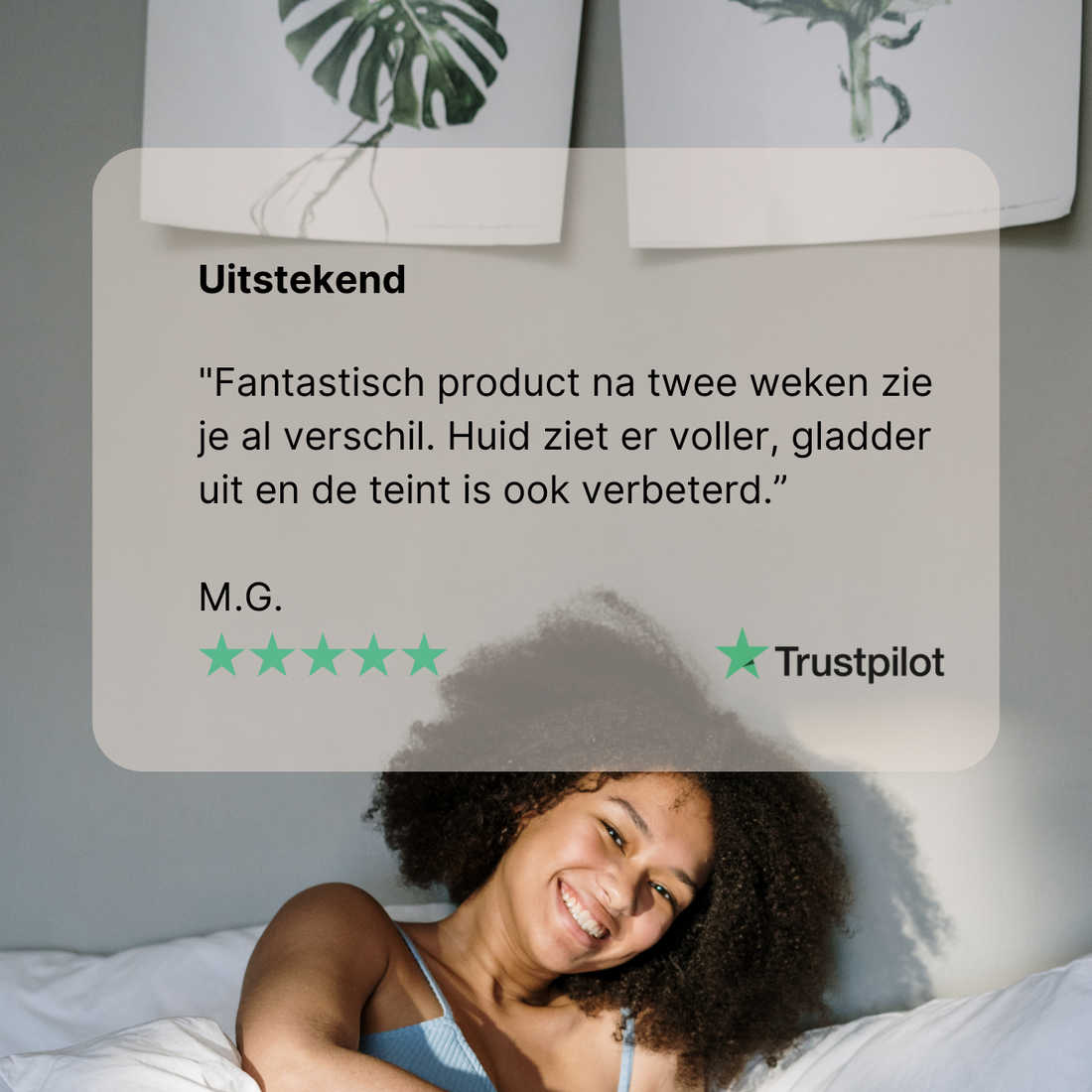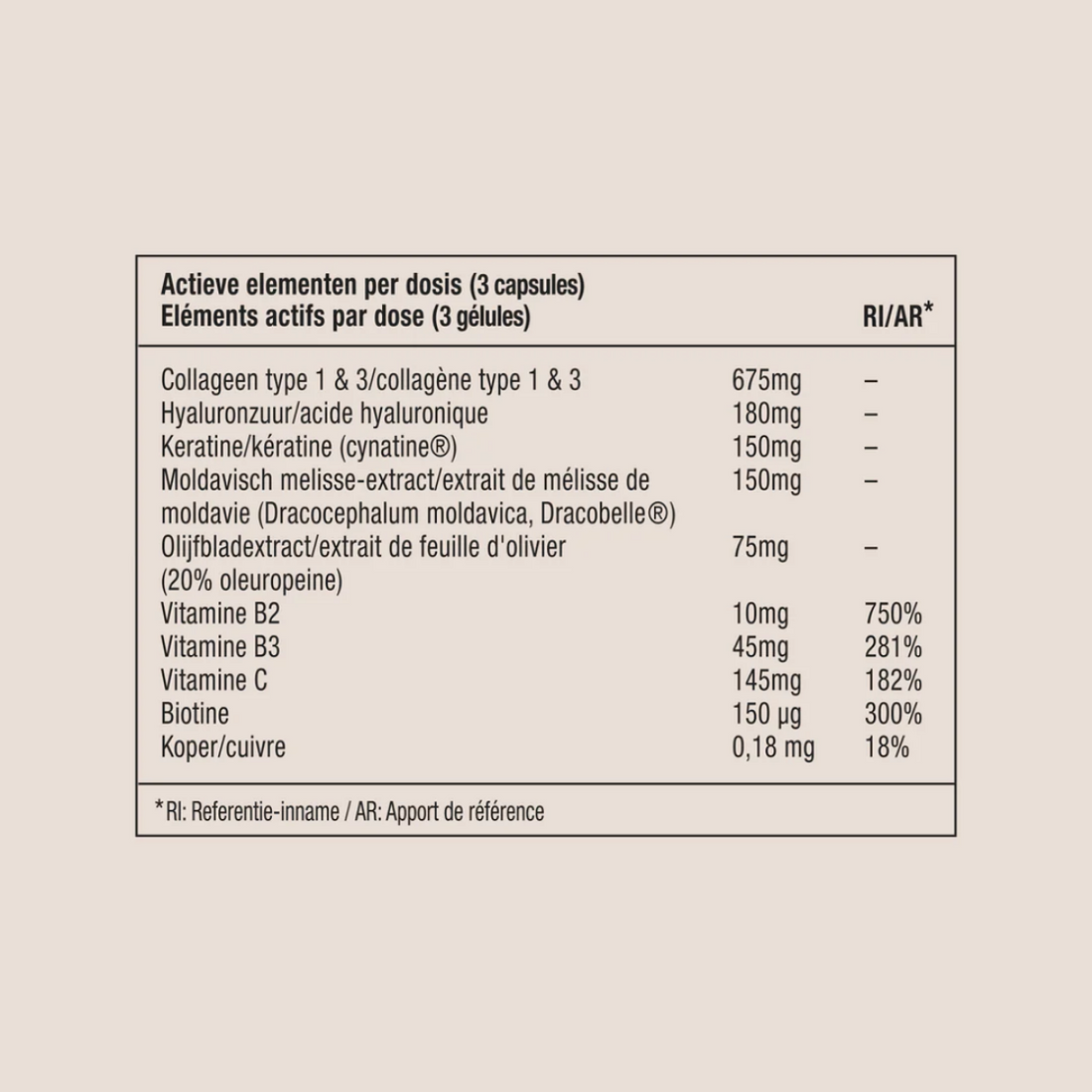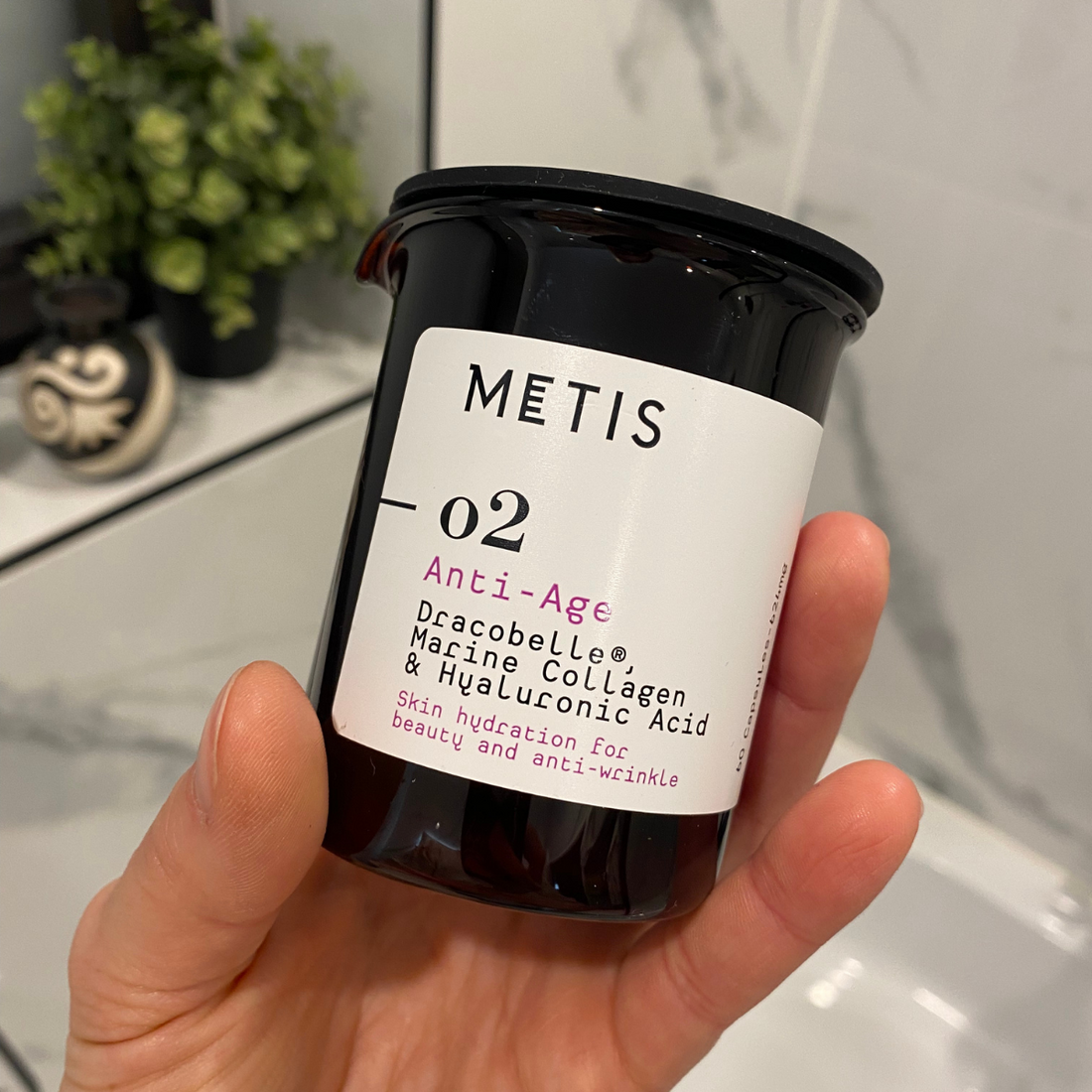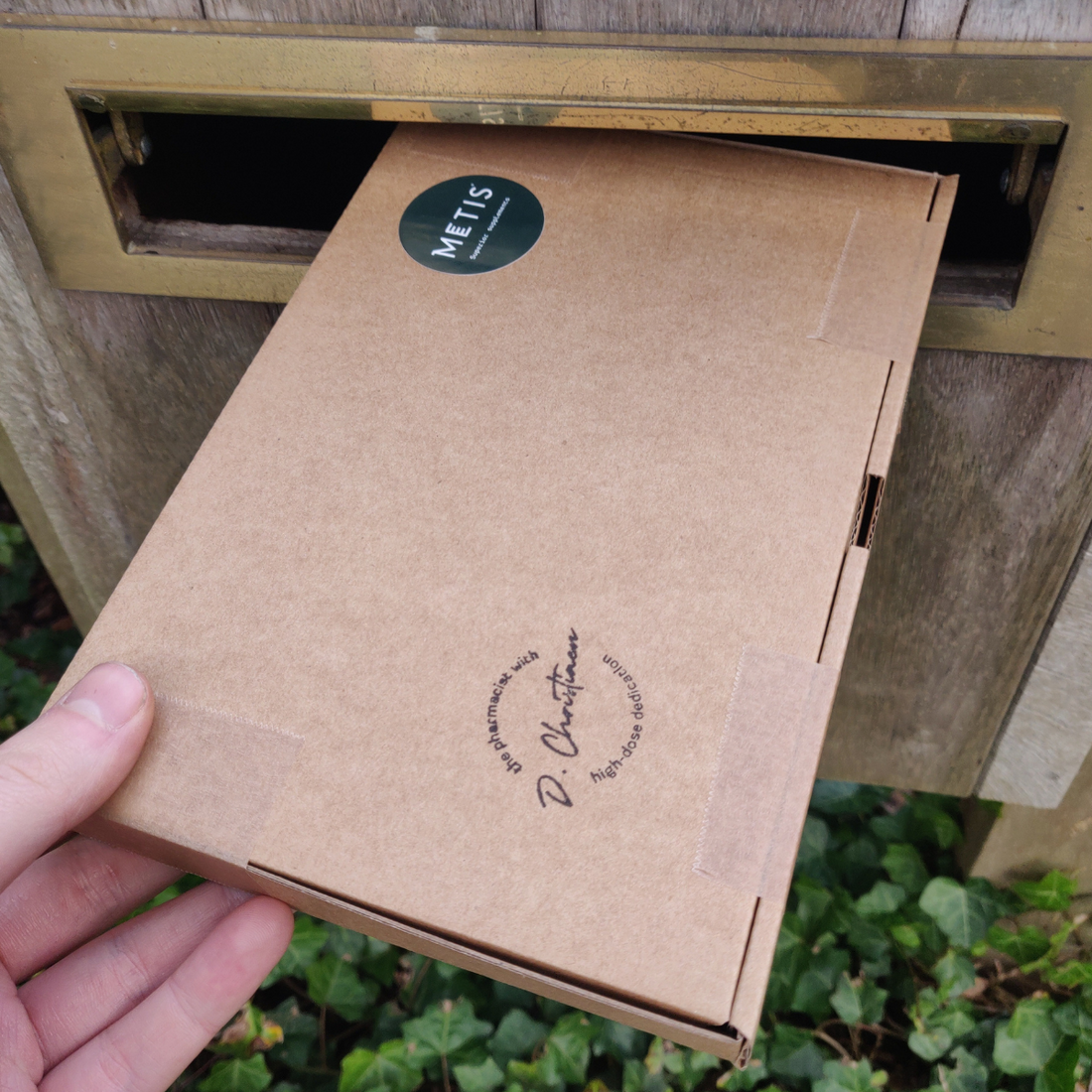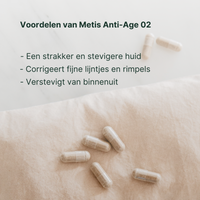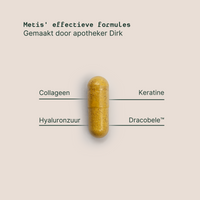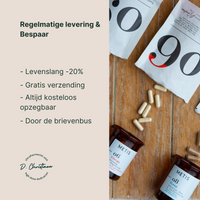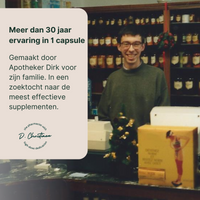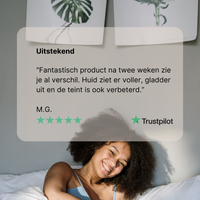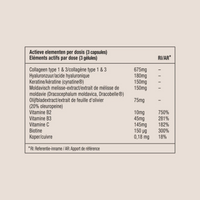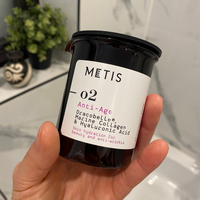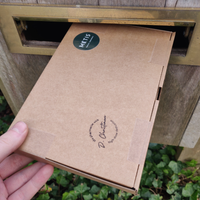 Anti-Age 02 Eco-Refill Deal
Healthy skin starts on the inside! Metis Anti-Age 02 Hydrates and stimulates the internal production of collagen for healthy, elastic and radiant skin. The natural ingredients, such as collagen, hyaluronic acid and keratin, also help combat wrinkles.
🎁 Ontvang Gratis Multivit Gummies bij aankoop vanaf €75
675mg Collageen type 1 & 3
180mg Hyaluronzuur
150mg Keratine (cynatine®)
150mg Moldavisch melisse-extract (Dracobelle®)
75mg Olijfbladextract (20% oleuropeine)
10mg Vitamine B2
45mg Vitamine B3
145mg Vitamine C
150µg Biotine
0.18mg Koper
Marien Collageen (fish), Hyaluronic acid, L-Acorbic acid, Keratine (Cynatine®), Moldovic Melisse Extract (Dracocephalum Moldovica, Dracobelle ™), Vegetarian Capsule: HydroxyPropylmeldelose, Vulofxtrose, Vulofxrein : silicon dioxide, copper fluconate, D-biotine
Take 3 capsules with water in the morning or at breakfast.
Vanaf de leeftijd van 12 jaar. Bewaren op een droge en koele plaats en buiten het bereik van jonge kinderen. De aanbevolen dosis per dag niet overschrijden. Een voedingssupplement mag niet als vervanging van een gevarieerde en evenwichtige voeding en van een gezonde levensstijl worden gebruikt.
<b>Start: </b>A stylish glass cup with 60 capsules. Ideal to give it a try.<br>
<b>Eco-refill: </b>An ecological refill package with 72 capsules (20% extra). Ideal if you already have a nice glass cup and want to top it up.
"Fantastic product After two weeks you can already see a difference. Skin looks fuller, smoother and the complexion has also been improved."
Nee. Metis Anti-Age 02 is een natuurlijk voedingssupplement dat geen verslavende ingrediënten bevat.
Geen probleem. De Metis formules zijn speciaal ontwikkeld om, mits gebruik zoals aanbevolen, samen te gebruiken.
Metis Anti-Age 02 bevat een hogere dosis actieve stoffen, ingrediënten van een hogere kwaliteit, en wordt beter opgenomen dan veel vergelijkbare producten. De formule heeft een dubbele werking: het hydrateert de huid vanbinnen uit en helpt rimpels te bestrijden
Ja. Metis Anti-Age 02 kan zonder problemen dagelijks worden gebruikt. De aanbevolen hoeveelheid is 3 capsules per dag. Neem Metis Anti-Age 02 dagelijks voor het beste resultaat.
Neem 's ochtends of bij het ontbijt 3 capsules met water in.
Nee. Niet omdat dit perse onveilig zou zijn, maar omdat we onvoldoende studies hebben over het gebruik van onze formules en ingrediënten tijdens de zwangerschap en/of borstvoeding. Daarom raden we het gebruik uit voorzorg af.
Niet altijd. We raden je dan ook aan dit met je behandelend arts of apotheker te bespreken.
Je kan de capsules openmaken, en de inhoud ervan met water inslikken. Dit is veilig en heeft geen negatieve invloed op de werking. Mogelijk proef je de inhoud wel meer dan wanneer je de capsules in hun geheel doorslikt.
De werking op de huid komt van binnenuit. Het kan dus even duren voor de eerste tekenen zichtbaar zijn. Onze klanten zeggen al een eerste effect waar te nemen na 2-4 weken. Normaal treed er zichtbare verbetering op vanaf 6 weken.